The Device
The vascular closure device Angio-Seal STS PLUS promotes quickly hemostasis in the femoral arterial punctures, by mechanical means and is supplemented by inducing properties of platelets in collagen, this device is used in procedures and diagnostic tests or therapeutic purposes.

The Angio-Seal STS PLUS is composed of a bioabsorbable collagen sponge and a specially designed absorbable polymer anchor connected by an absorbable self-tightening suture. All components are absorbable within 90 days.
Benefits
Early ambulation being: Angiography: 20 min. High in 1 hour; Angioplasty for 4 hours.
Increased availability of rooms
Quick release Physician / Staff / Nurse (a)
Patient comfort
Safety for the patient / physician.
Video
ANGIO-SEAL DEVICE INSERTION PROCEDURE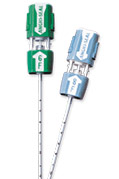 Passo 1: Locate the Artery
Exchange procedure sheath with Angio-Seal Locator System
- Blood flow through the locator confirms sheath has entered the artery.
- Confirm proper location by withdrawing and reinserting the Angio-Seal locator system until blood flow resumes and then STOP.
Passo 2: Set the Anchor
- Carefully grasp the Angio-Seal device just behind the Bypass Tube and slowly insert into the sheath until you hear a click.
Maintain a grip on the Sheath Hub, grasp Device Handle, and gently pull back until you hear another click.
Passo 3: Seal the Puncture
Withdraw all the device along the angle of the puncture tract while maintaining tension. Once the tamper tube appears push to promote the conflation between the anchor and collagen. At this stage the black compaction marker, appear confirming the hemostasis cutting the suture above the tube after tube remove the compactor and push the patient's skin and cut the suture.

Leaflets, brochures and articles of Angio seal
Instructions for use
Please read the product manual for a complete description of Indications, Contraindications, Warnings, Precautions, Adverse Events and Potential Instructions for Use.
The above texts were taken from the manufacturer St. Jude Medical website. Product Price: On request.