Fast and Easy FFR – Outstanding Handling Performance

Physiological assessment using Fractional Flow Reserve (FFR) is a clinically proven and cost effective solution for determining the functional degree and location of stenosis. RadiAnalyzer Xpress Measurement System and PressureWireTM FFR Measurement System enables fast, easy and accurate physiological measurements for every day clinical decision making as well as advanced research.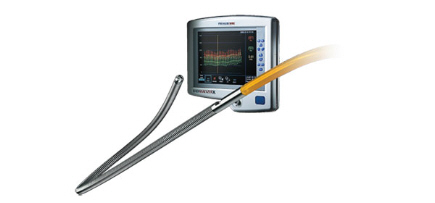 RadiAnalyzer Xpress Supports Clinical Decision-Making
The RadiAnalyzer Xpress Measurement System is an easy-to-use, lightweight, durable instrument that supports clinical decisions.
Real-time calculation of FFR, CFR (coronary flow reserve) and intravascular temperature
The RadiAnalyzer Xpress Measurement System connects with any cath lab system currently on the market
Lightweight (9.7 pounds) and compact monitor size allows bedside mounting for convenient access to key information
The system offers high-speed connectivity to PC or printer
On-screen step-by-step guide provides fast setup
Connection is easy with quick-lock color-coded cables
Technical Specifcations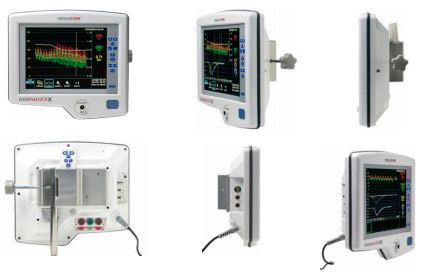 Reorder Number: 12711
Description: RadiAnalyzer Xpress
How It Works
Fractional Flow Reserve (FFR) Measurement for Informed Coronary Disease Intervention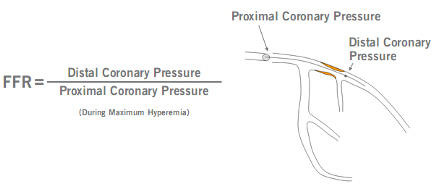 FFR Measurement Correlates to the Likelihood of Ischemia
An FFR measurement above 0.80 indicates normal coronary blood flow and a non-significant stenosis. A measurement below 0.75 indicates a high likelihood that a stenosis may be causing ischemia.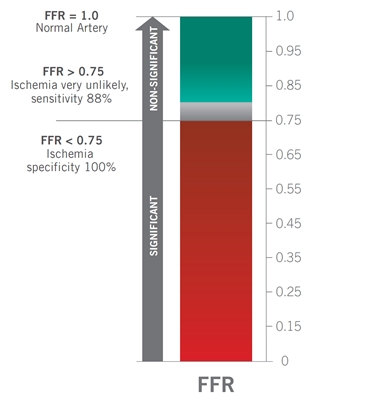 Incorporating FFR Measurement into Procedures Significantly Reduces Major Adverse Coronary Events
When integrated into routine lab procedures, measurement of fractional flow reserve (FFR) has been shown to reduce the incidence of adverse events in patients being treated for complex coronary artery disease. Compared to angiography alone, FFR allows physicians to more accurately identify hemodynamically relevant stenoses, reducing rates of death, myocardial infarction and repeat revascularization.
Key findings from the FAME study, by Tonino et al. show a 28% reduction in major adverse cardiac event (MACE) rates and significant cost savings without prolonging procedure time.
Study Reports Integrating FFR into Procedures Improves Outcomes and Reduces Costs
The FAME study, recently published in The New England Journal of Medicine, shows that routine measurement of FFR in patients with complex coronary artery disease reduces MACE and makes stent placement more eficient and more cost-effective.
FAME Study Results
Study Methods
FAME (FFR versus Angiography for Mutilvessel Evaluation)
Randomized, prospective study – angiography only or angiography plus FFR
20 centers in US and Europe
1005 PCI patients undergoing DES stenting for multivessel disease
Outcomes
Compared to angiography-only procedures, FAME shows that FFR:
Reduces composite rates of death, myocardial infarction, re-PCI, and CABG at one year by 28%
Reduces mortality and myocardial infarction at one year by 34%
Is cost-saving and does not prolong procedure time
Decreases amount of contrast agent used
Results in similar, if not better, functional status
Website www.famestudy.com
Download several presentations of the product manufacturer (St. Jude Medical)
The above texts were taken from the manufacturer St. Jude Medical website. Product Price: On request.